At first, I thought about getting you a pair of really fuzzy slippers to say thanks for stopping by. I mean everyone could use a pair of fuzzy slippers. But the whole sending out thousands of slippers thing didn't seam like it would work out that well. So then I thought I should send each one of you a personal e-mail telling you how much I appreciate the time you spend here at Ask the Decorator. But then I figured I'd look like a stalker.
So I went back and thought really hard about what to give you that would say, "Thanks for being my reader." I thought for a long time about what you would want, and then it hit me. I should give you a Web site where you feel welcome and at home - a Web site that is easy to navigate, easy to use and gives you information that makes your life easier.
Now, I'll be honest, that's a hard gift to create. I didn't think I was going to be able to do it. But after months of hard work, it's time for me to give this Web site to you and say thanks. I appreciate every second you spend here on my Web site. I even put the Ask the Decorator logo on a gift tag so that every time you visit you'll remember that it was made especially for you.
I really hope you like it and enjoy all of the little perks we've hidden on each page.
Meghan
E-mail • Furl • Digg • Delicious • StumbleUpon • NewsVine
Posted by Meghan Carter on Tuesday, Dec 4, 2007 in
Ask the Decorator News
.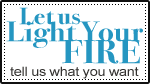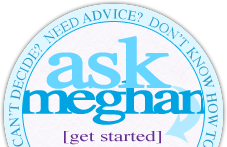 ©2006-2008 AsktheDecorator.com
We're a slave for you - litterally. We work day and night trying to make this Web site the best it can be, and we could use your help. Tell us what you want, because we want to hear it.
Love my videos but don't have the time to visit Ask the Decorator every day? I understand. That's why I offer e-mail alerts.
By signing up for the e-mail alerts, you'll receive an e-mail each time two new videos are published on Ask the Decorator. The e-mail will have the headline for each video along with a short summary.
If you're interested in the video, click on the headline and you'll be taken straight to that video. If none of the videos interest you, trash the e-mail and move on with your day without wasting the time of visiting my Web site. Brilliant, I know. Hey, I'll do anything to make your life easier. Just ask, or in this case, sign up.
I know how frustrated you are. We've all been there. No matter what search term you type in you can't find what you're looking for. Well, search no more. Simply fill out the form below to send your decorating dilemma straight to me. I'll think over it for a while and send you an answer as soon as I can.
I hope you're enjoying my blog. Thanks for taking the time to stop by.
My blog is about letting you get to know me and Ask the Decorator through sharing fun stories from my travels and any other interesting things I come across. Also, this blog is a way for me to connect with you. So feel free to contact me, becasue it's a two-way street.
I'm glad you like my blog and even more flattered you'd like to subscribe.
Fill out the form below, and you'll have each post e-mailed to you. But don't worry, your inbox won't be inundated. You'll receive a weekly e-mail updating you on the latest posts.